The Ride Day 7 – Busted in more ways than One
Posted 14th August 2008 at 22:26 by
glh
---
Please forgive the long delays posting ride reports. I had intended these to be real time, but then riding and a few technical difficulties got in the way.
I was now committed to riding down the coast. My goal was to reach Eureka early enough to get a new set of tires put on the bike, if they had Metzler 880s. This was a total stretch I know, but it was what I was fantasizing about.
There was a bit more RV congestion on this route than I would have liked, but the places on the coast I had missed before were well worth seeing. Much of the Oregon coast is posted as 55 mph, and for the most part that is fine because visibility is limited and the road surface is imperfect. I stopped at one spot between Port Orford and Gold Beach to snap this pic.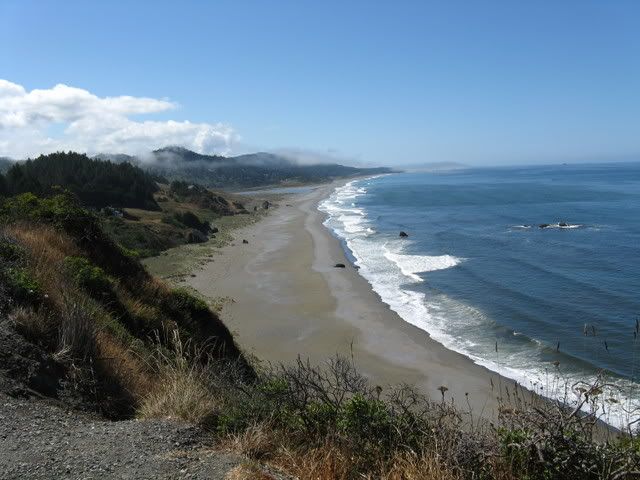 Helmet head and balding do not always mix well.
Shortly after this stop I was on the road reveling in the beauty of the coast. I came off a hill a little hot and cam over a rise to see an Oregon Highway Patrol cruiser coming towards me. I checked my speed and found I was going a bit over 60. I throttled back and enjoyed the view for a while when I heard the siren and saw the lights in my mirror. The officer claimed that I was going 71 in the 55. Grrr. The radar could not have been accurate, but this was a younger cop who didn't look inclined to doubt the accuracy of the equipment he was working with. Busted.
It was around 4PM and I was already through Arcata an on the last stretch of road before Eureka and the HD dealer when my engine sputtered and died. I pulled over and looked down to find my air cleaner hanging out of my bike. Busted again!
The carb support bracket had completely broken. This had happened to me a year before, so I knew exactly what to o to get myself back on the road. You can see an example of the fix in my avatar pic. The two metal pieces emerging from behind the AC are the handles of needle nosed vise grips.
I got to the dealer about 20 minutes before the service shop was to close. Amazingly enough they had Metzler 880s in stock for my bike, but the service shop was closed the next day (Sunday). I was told that if I was will to pay time and a half labor, and if a tech would volunteer to stay past closing, then they would mount my new tires while I waited. I was willing, and while she checked with the techs I went to the parts counter to see about the bracket. There was a consultation between parts and service, and it was concluded that they didn't have a replacement bracket but that they could weld it for me.
The final result was that a tech volunteered to stay, and both mounted my tires and welded my support bracket. While I waited I had a nice time taking with folks. I ran into a guy from British Columbia on a Dyna that I had talked to earlier in the day. He was staying at the KOA just down the road. I also finally bought myself a clock for the bike. It was HD branded but made by Formotion. Once the shop closed I talked with a guy from Florida who had hit the opposite coast at San Diego and was headed for Washington State. I really enjoyed talking with a couple from Michigan whose bag support brackets had broke while pulling a trailer. The dealer had a volunteer for them as well. The welder was going to return the next day and open the shop to fix their bracket.
I can't say enough about how excellent this dealer was. When the tech brought my bike out he showed me exactly how he had welded the bracket (both sides) and said the root cause was that the spacers I had were too big. He had replaced them with smaller ones, and returned my old spacers when I requested them.
By the time I left the dealer it was getting close to dark. I tried to get a room in Eureka and was told that every room in town was booked. I could have tried Arcata, but it was so close to dark that I pulled into the KOA instead. I barely got my tent setup before full dark. I was disappointed to find that the couple from Michigan had stood in line for a while then taken off; they were good company. Luckily I had a few beers left from the evening before that I had taken with me. The KOA didn't have coolers, but I improvised enough with a bag of ice that they were at least Luke Cold.
Comments