Love the new Fairing
Posted 17th March 2008 at 14:55 by
glh
---
Thank Goodness. I've had 2 windshields on this bike and neither worked well.
My original post for help is here:
http://xlforum.net/forums/s...ad.php?t=86885
After 5 months of struggling with wind issues, and knowing I will be touring on my Sporty come early summer, I bit the bullet and bought a fairing. Riding without a shield is a blast, but there are plenty of times when it is not. In my original post I mentioned the 209-30 mph winds I ride home against, and touring means the possibility of heavy rains or a field full of junebugs.
At first I tried another windshield, a National Cycle Deflector Screen DX. This was better in terms of the buffeting I experienced with the HD detachable compact, but the setup was kind of hokey. The idea of "pre-loading" the bottom of the shield against the headlight or eyebrow seemed like bad design to me, and although the buffeting wasn't as bad, the shield and mounting system took away some stability. I felt like the front end was being pushed around by the wind. When I finally went to remove the mounting hardware, I found that one of the screws in a handlebar clamp just turned. The brass embedded in plastic had simply broke free. Fun, now I can't even sell the darn thing. After a half hour of dremel work I finally removed the clamp from the bars.
In the mean time I bought a Shoei full face helmet (RF-1000). It takes some getting used to riding with a full face after years of riding with a half helmet at most. I found that it was workable to ride into 90+ MPH winds with this helmet, but my arms still took quite a beating holding on with all that wind on my chest. I thought about just doing a fly screen, then thought about a quarter fairing. On Friday I decided to take a chance on a fairing that is smaller than a batwing but larger than a quarter fairing. I called Rifle Fairings, and the one I was thinking of was in stock. I only work 30 minutes away from their shop, so I was able to arrive before closing time and pick it up in person.
I have not had the chance to ride more than 60 miles with new fairing installed, but the little time I have had to test has made me a very happy boy. I was dreading dropping even more cash only to find buffeting or front end shakiness. Instead I found that my bike handles highway speeds into strong and gusty head/side winds (25-35 mph winds at 70+ mph) better than it ever has before.
My goal all along has been to set this bike up for mild adventure touring. By this I mean able to carry enough stuff to ride 3-4 weeks, blast along the interstate without being beat up by the wind, and also able to ride a primative road or three without breaking down. The Rifle Roadster Fairing brings me that much closer.
It may not be a Sportster-Glide or Baby Bagger like Snowman and others have built, but as a relatively inexpensive solution the fairing, along with Mutazu hard bags on easy brackets are working for me. The Mutazu Trunk is next, I'm just waiting on some mounting hardware.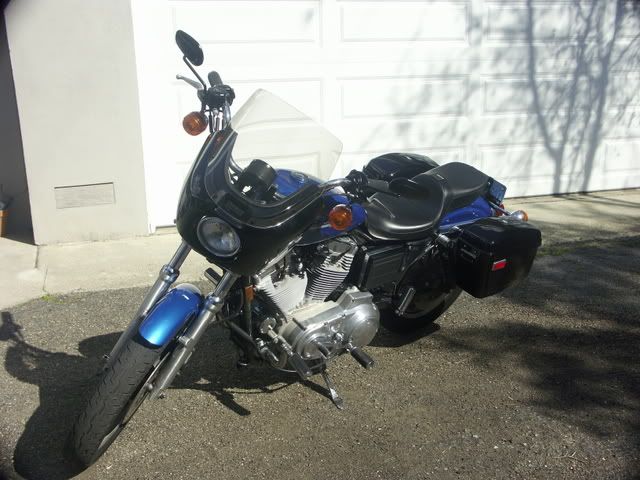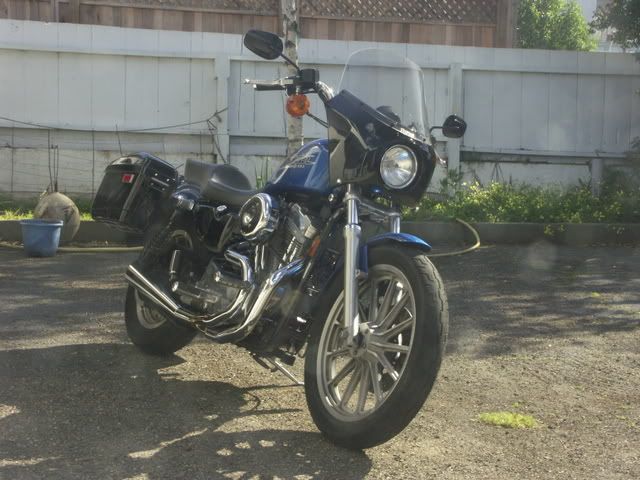 Comments