The Ride 3 - Continued (On the River)
Posted 7th August 2008 at 17:04 by
glh
---
I ended up staying at Jots, across the bridge over the Rogue River. This is place is beautiful. Out the sliding glass door, or from the deck just outside, I can see on my left the Bridge, and on my right where the Rogue meets the Pacific.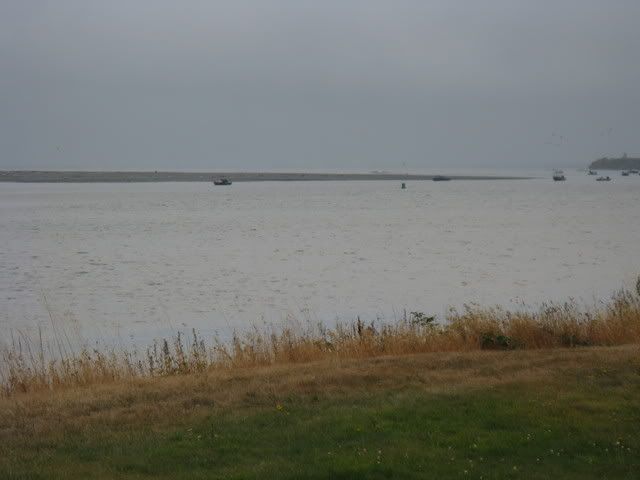 As beautiful as it was I found myself getting irritable. The sign had advertised WiFi, but there was nary a signal. I used my phone backup system, but even that was spotty. I realized that part of my problem was that I was getting hungry, so I walked to the Bar/Restaurant across the street. I sat at the bar and waited. And waited. And waited. I eventually gave up. Since it seemed I was not having dinner here, I walked up the hill to the general store only to find they were closed. Grrr. I headed back to the bike and pulled out my emergency rations, beef jerky and a Cliff bar. After munching through most of my emergency rations the blood sugar was back up, but I was already halfway through my beer stash.
I decided to give the bar one last try. This time it was not deserted, but was busy enough that I couldn't find a seat. Again I waited, until a gentleman returned for his drink at the seat next to where I was standing and asked me if I was waiting for a drink. I was somewhat sarcastic, saying "if I can ever get one". He proceeded to give me his seat, get the bartender's attention, and buy me a beer. It turns out he was one of the owners, and a part time fishing guide. His family had bought the resort, and they were still trying to get some of the details up to snuff. I mentioned the WiFi situation, and he told me he was waiting on the engineering bid to run wire and drop new routers.
I started up a conversation with another fishing guide across the bar, and he eventually joined us. From him I got the lowdown on the small town gold beach experience. I ended up having a great time that night, and was told about a road that I might not have taken the next day without some inside info.
Comments