Hard Trunk Install Success - Almost
Posted 24th March 2008 at 04:13 by
glh
---
I'm getting closer and closer to getting my bike setup for Adventure Touring.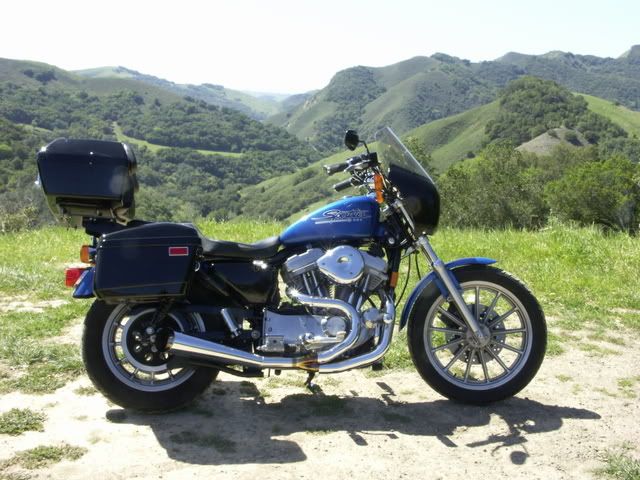 I still haven't decided where I will be going. Once choice is to head across the country. Another is to head north into British Columbia then loop around through the Rockies.
Last night I mounted the Mutazu Hard Trunk. This was in addition to the new Rifle Fairing. I already had Mutazu Hard Bags mounted with wide (beyond the shock) Easy Brackets. The bags were part of the challenge, since the saddlebag lids flip up from the back instead of the side, and will hit the wide trunk if it is mounted at normal luggage rack height.
This is what I started with for mounting.
This was a good starting point, but to fit the trunk with the bags I needed to move the mounting points back and raise the trunk up from the plate. I ended up at ACE Hardware buying hex head bolts and nylon locking nuts and steel spacers and the like. Since I was on the bike I had to return for the 3" x 1/8" welding steel that I cut to 10 inch lengths and drilled.
Here are the plates added to the mounting kit.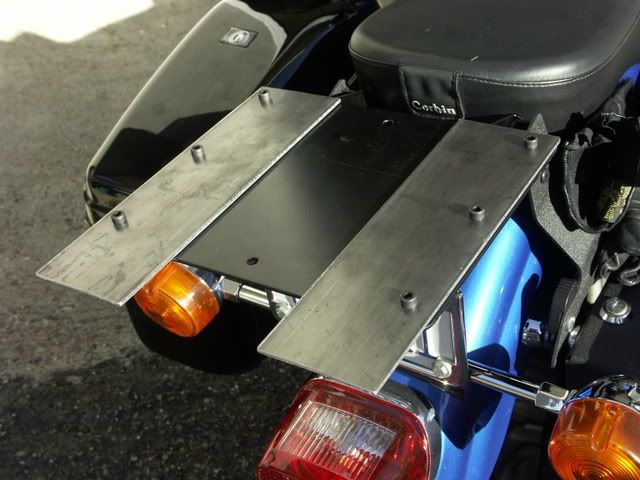 I drilled 4 holes through the welding steel and mounting platform, which I neglected to photograph.
The Tour Pack is Mounted.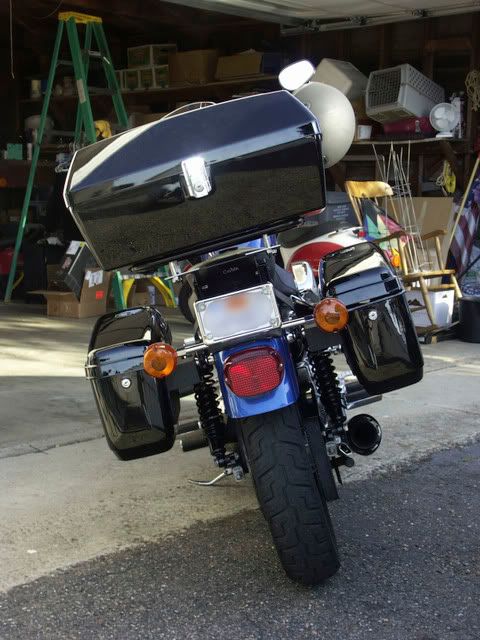 I totally beat the bike up today. High speed highway riding was followed by traditional twisties, then technical twisties on good pavement. After gassing up and getting through a town I had some spirited high speed riding on sweepers until I got behind a slower moving vehicle. They weren't going that slow, but I was in my groove. I had planned to turn left for more traditional twisties, but when they signalled to turn left onto Old Creek Road, I decided to turn right onto Santa Rosa Creek Road.
Santa Rosa Creek Road is at best 1 1/2 lanes of broken tarmack poured over sharp hilly terrain. It is a motocross course for a road bike if one chooses to take it at speed. I did. I had one hairy moment when a truck towing a camper came around a corner too fast and in my half of the 1 1/2 lanes. He skidded sideways trying to correct and the camper swung towards me, but I was able to slow and dodge in time. In such close quarters I always hug the mountain when it is the inside line, and prepare to ride the edge when it is not. My riding the edge line was good.
By the time I made it home today I had ridden just about every type of road. The stability is still great at speed, and everything would be rosy except ...
As I sat drinking beer, looking at my bike from behind, I noticed that the tour pack was sort of ... twisted (on the Z-Axis). Everything is solid, but it appears that the washers I used have deformed enough that the pack is no longer facing precisely straight ahead. I can ride with it like this tomorrow or the next day, but before I journey to parts unknown I must improve on the design.
Comments
Posted 31st March 2008 at 03:34 by

glh