The Ride Day 3 – Hung-over, therefore Wimpy
Posted 7th August 2008 at 07:34 by
glh
---
I had a really slow start today. I almost never get hangovers; this morning was the exception to the rule. Note to self: don't drink the brown stuff, Whiskey bad for you. I didn't check out of the motel until nearly 11 AM. In my defense I did spend much of the time finishing the ride report from the previous day.
I then proceeded down the street to the carwash to hose off the bike, and from there to the food joint for a big breakfast. While leaving the carwash I saw a sign warning "slippery when wet". This was an omen. Apparently this self serve carwash was built on top of a form of clayish dirt designed to shrink one's traction circle to Zero. I spun out crossing the street to the breakfast place, and eventually pulled into a rest stop and manually cleaned the magic goop from the pre-chicken strip area of my tires.
Truly this was a day to laugh about later. I had just started getting my groove back when I entered the Hoopa Valley Indian Reservation and immediately a septic truck pulls out in front of me. I was a little ticked because I had to put on my brakes. It was then I noticed the smell and wrinkled my nose. Inside of 5 seconds I watched a puffy white mass loft itself from the back of the truck and float towards me like magic. It spiralled as it moved towards me, but seemed intent on reaching me. Sure enough, that wad of thoroughly used TP landed and stuck on my windshield. I kept expecting it to blow off, but it was not letting go.
Who would have thunk it. I used a good part of my own emergency tissue to remove the puffy white mass and associated crap from my bike. Somewhere out there is an Indian shit collector laughing his ass off at the white boy on the bike. Coyote humor for sure.
It may have taken me a while to get into my groove, but I was still rewarded. I wish I had a pic to share of my ride through the fog shrouded Coastal Redwoods in Del Norte Coastal Redwoods State Park. Adjectives like mystical and magical come to mind, but believe me you just have to be there. These groves are massive, and I felt privileged to ride through them while they drank of the coastal fog.
The hangover was receding by the time I reached Crescent City, but I needed an iced coffee fix to get right with the world. I stopped at a Starbucks on the way out of town and ordered my standard Grande Iced Coffee with an Extra Shot. The Starbucks branded metal thermos qualifies me for a 10 cent discount. Whoopee. I hunker down for some Internet Access using my mobile phone for the wireless connection from my Eee PC.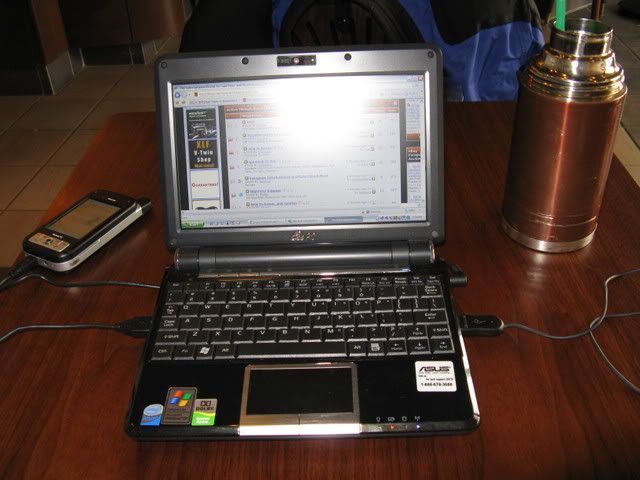 Post caffeine/internet fix I headed for Gold Beach Oregon. When I arrive at Gold Beach I stopped at the visitor center, which is something I almost never do while riding. Surprise, I recognized the layout of info on their brochure from the website I had been looking at for more than a year.
http://www.goldbeach.org/
I mentioned the similarity to their website to the lady manning the visitor center, and it turns out she was the one responsible for the website. I think you will agree she is doing a really fine job. The website made me want to visit this town. I have somewhat mixed feelings about my Gold Beach experience, but I will come back here when I can.
Comments