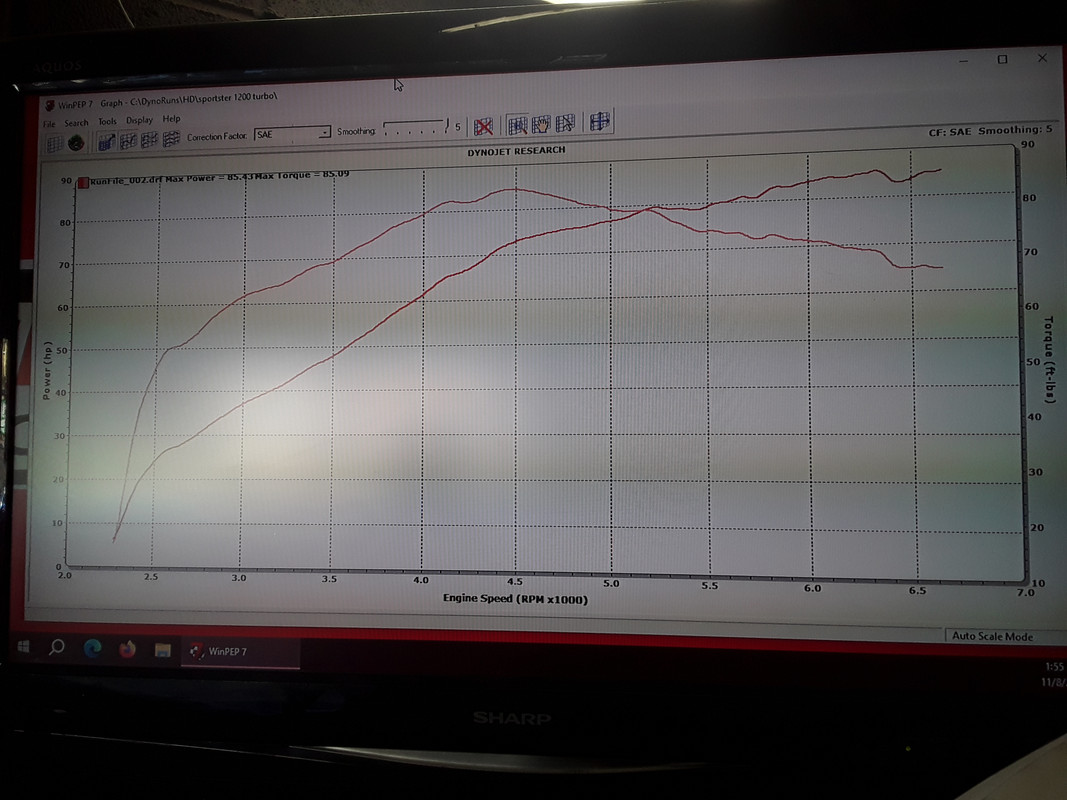 Thank you to Jeremy at Adrenaline Performance in Mesa, Arizona. He got me in for a dyno run with a 2 hour notice. This was after calling 5 different shops with dyno's who either outright refused ("we don't TOUCH bikes older than 2006" ), or "yeah it's $400 an hour, we don't do numbers only".
Before we get into this; please note the valvesprings losing control of the valvetrain at 6,400. With a D cam, I wouldn't expect it to continue gaining that much more power, but it's worth noting. I think we could've maybe cracked 90whp if the valves didn't float. The pulls were done in 4th gear as well, which from what I can surmise means the numbers will be lower by around 5%.
The result above is the "out-of-the-box" tune with 22* of ignition advance, 9psi, The AFR's (he's going to send me the graph) dipped into the low 11's on this pull.
Unfortunately, I only purchased a "numbers only" dyno pull, not a full on dyno tune that would allow me to really fine tune the bike and squeeze out everything we can from it. I think an additional 2-3 degrees of advance alone would've got us to 90/90 or more @62-6300.......on an otherwise stock rigid 1200 motor w/stock D cam. Hell, running the bike in 5th gear probably would've put us at 90whp in and of itself.
Really, really would have liked to advance the timing a bit more as there's enough left on the table to do so, especially given that I'm still running the same timing map I ran in the bike when it was 110* out. If you wanted to get aggressive with the timing and run 25-26 degree's, and then dyno the bike in 5th....it will hit the magical 100whp.
Even though this may disappoint some of you, I actually came away pretty happy today. These bikes are factory rated at 50HP, and we just put down 85whp on the first stab of an out-the-box setup. I'm tossing around the idea of going back to the dyno, requesting that it be dyno'd in 5th, and then adding 2 degree's of advance and leaning out the thunderjet a half turn. I think that alone will take us well into the 90/90 area, and may even flirt with 100whp even with the floating valves.
More than likely going to go back one more time before the kit goes into production, just to at least get a 9Xwhp run on the board before starting the advertising for the kit. Being in the mid 80's will seem underwhelming without having context of everything, so in the meantime, I'm just going to send a link to this thread so people can get the context with the numbers.
I'm currently offering pre-production kits to anyone who can drop their bike off at my home shop to have the kit installed and tuned. This way I can give you a proper, dialed in setup (tuned with my wideband) to maximize power and safety. PM me if you're interested.
Cheers!