Quote:
Originally Posted by
Maxeffort
Do you have the shocks installed on the bike or held vertical, fittings facing up, when you do this? Otherwise, oil everywhere!
Assuming they are vertical and fitting up, You just have oil in all the lines. It will clear out.
It just takes a very small amount of air volume to fill. 50 Psi max, but 0-15 PSI for a Sportster.
And you need to space the right shock away from the chain guard with a washer(s) between the shock and the mounts.
You'll get there and I bet you'll like them.
Here's a shot of the shock and line on my 1996.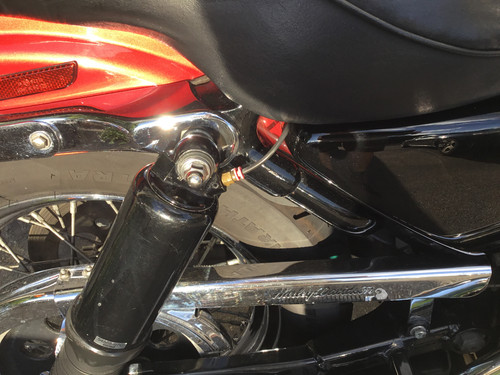 I purged the oil in the lines when I clipped the hoses. They were vertical every time I tried to put air in them. I think it's an inner seal problem. Seller got back to me and said that he must have sent me the shocks with more than 50,000 miles on them.
I resisted my instinct to annihilate them, and now they're going back to the seller. I already packed them up and they'll be sent back in the morning. I'm just going to either buy some progressives or utterly brand spankin' new air shocks.
Whenever I try to save a buck, I get it in the rear. It's just my luck. Example-
Guy-"Hey I got this mint Sporty 1200 for $2000 with only 3000 miles on it, didn't you say you were looking for one?"
Me- Yeah, but I was looking at one at the dealer with 7000 miles for $5500.
Guy- But this one has less miles, looks better, and is way cheaper!
Me- Sweet, it does look mint. Hell yeah you're right I'll take it for $2000!
Me(less than a year later)- Well, it could be worse. I mean I'm only $4000 in the hole for parts and labor. Would have been more if I hadn't done some of the work myself.
I learned a long time ago that with my luck, I was going to have to eat a whole lot of shit sandwiches through life.
The bright side of that is- at least I'll never go hungry
Thanks for all the help guys!