Well, the season is a wrap, 'cept for a 3-day live capture derby next weekend to benefit the hatchery's brood stock program.
Late in September they cut us down to a 1 fish daily limit because the dam counts were looking so bad. That's from a 2 fish limit last year, and a 3 fish limit in years before that. Salmon runs go in cycles and we've been on a downtrend, which should be reversing here in a year or two. But we literally only had about 20% of the fish this year that we had in 2015, which was the peak of the cycle.
Then they pulled the plug on the whole season on October 15th, which was two weeks earlier than planned. They said we had taken our 7000 fish quota at that point.
The fish were smaller on average than previous years, and averaged poorer quality this year as well. I'd say the average fish was 10-12lbs is all. A few years ago it was more in the 15-17 range. And we started getting some pale fish in late September. Last year, I don't think we saw a pale fish until about October 10th.
I personally managed to boat 32 fish, not sure how many HAMMER Dan got but it was several. Had various other guys join me in the boat at times. I'm guessing we put 50+ in the boat altogether over the course of the season. So it wasn't a total bust. Beats working. And I've got a freezer full of salmon filets. I'm probably going to smoke about half of them though, given the quality.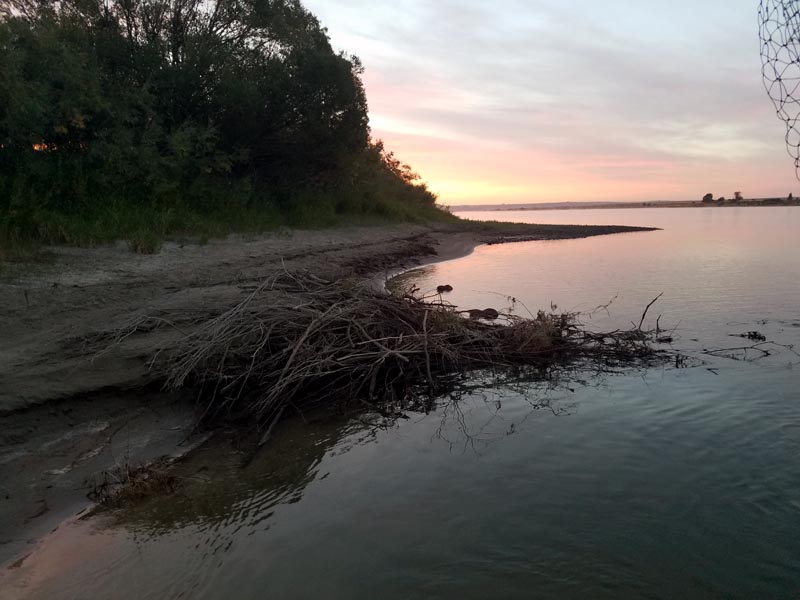 I took the above pic from my boat, while it was beached right after launching it, at sunrise one morning. You can see my net in the upper right corner. This is looking downriver. Right next to the boat launch is this giant pile of branches. It's home to the two beavers you see if you look close. They didn't seem to mind the boat warming up right next to their house.
There's tons of wildlife along the Reach. Deer, Elk, coyotes, beaver, eagles, etc.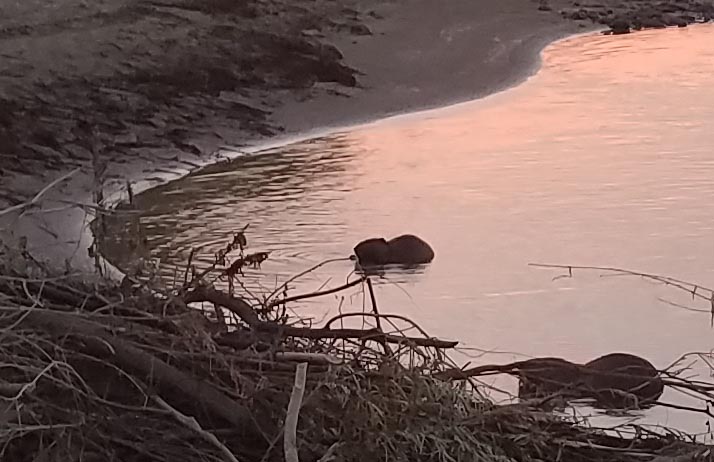 Here, they're easier to see in this close-up.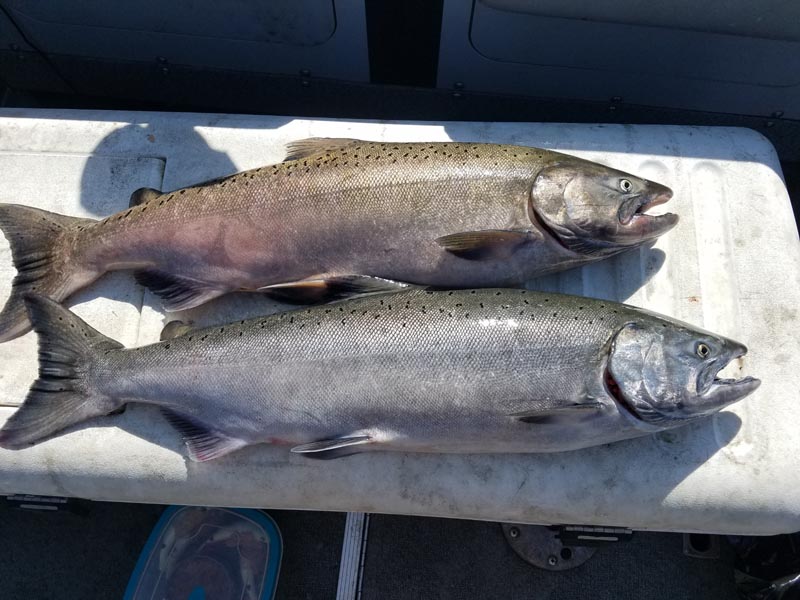 A typical day's catch, before they dropped the limit down to one. That's a 150qt cooler. These fish are pretty average size.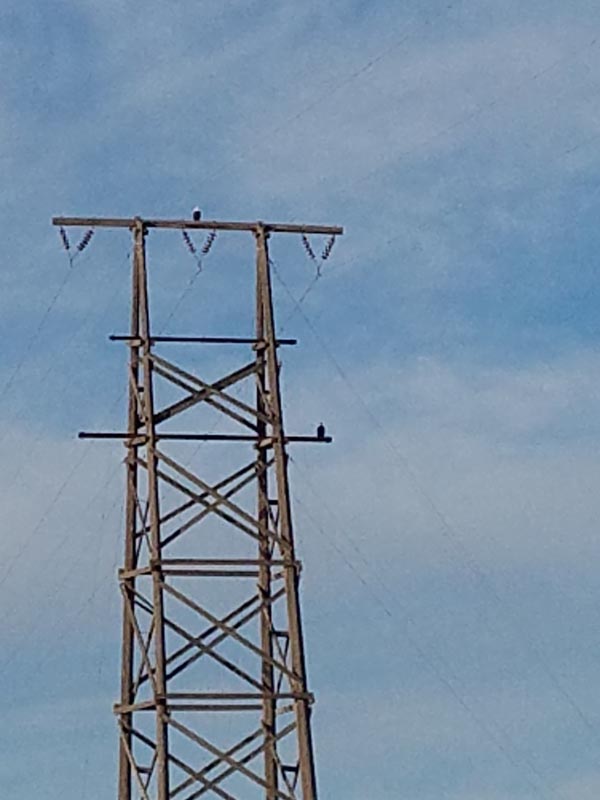 Bald eagles like to sit up on the power line tower and watch all the boats. They probably think we're idiots, fishing with rods and reels and lines.
I only managed two fish over 20lbs all season. This guy was 22.8lbs. The other big one is in the picture in post 47, he was 28.2lbs.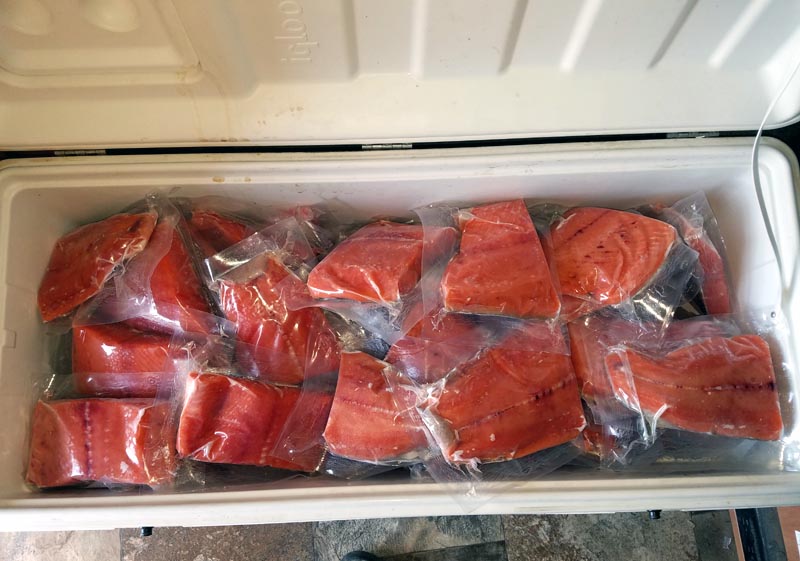 A week's booty, this was early in the season before they dropped the limit, and while the fish were still fresh.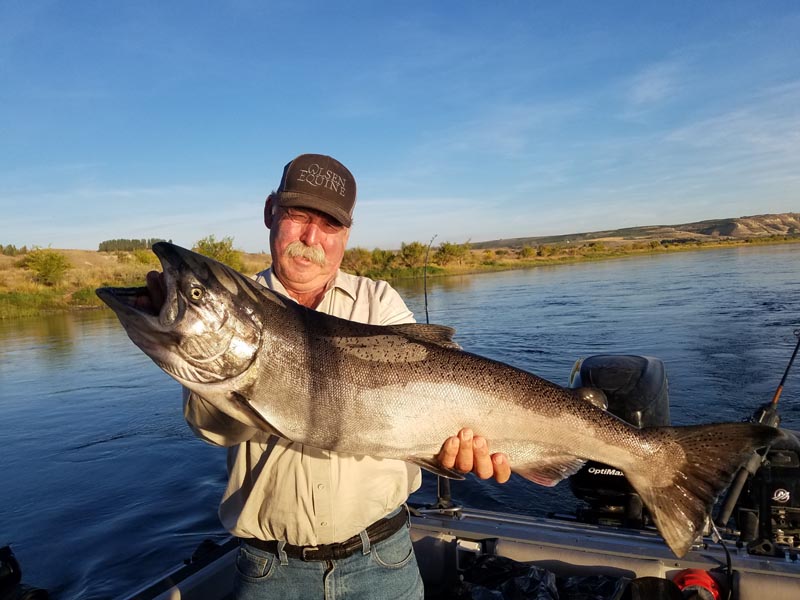 My buddy George flew in from his home in Wyoming and spent a week fishing with me. He limited every day. This is his biggest one, it was a tick over 20lbs. He had never done this before, he's kind of a hard core trout fly fisherman. So these fish were the biggest he's ever caught. Now he's hooked, he's already talking about coming back next year.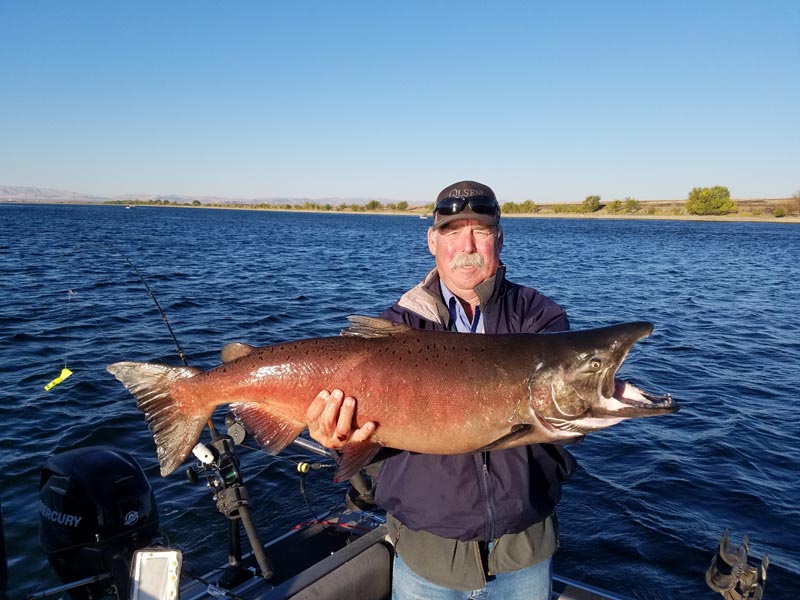 George again. This fish is high teens for weight. It's turning red, but it's a buck so it's OK. The bucks will cut nice even when they're red on the outside. It's the hens that go pale inside when they get too far along.
I'm going back for the derby next weekend. Being a live capture derby, we keep all the fish alive and we turn them in. WDFW then transports them to the hatchery to use brood stock. It's a lot of fun. When you get this late in the year, the fish get really aggressive and the fishing is good. Plus, there will have been no fishing pressure on the river at all for the previous two weeks. Last year I got 13 in the 3 days of the derby, and all the entrants collectively turned in over 500 fish. It's a hoot.