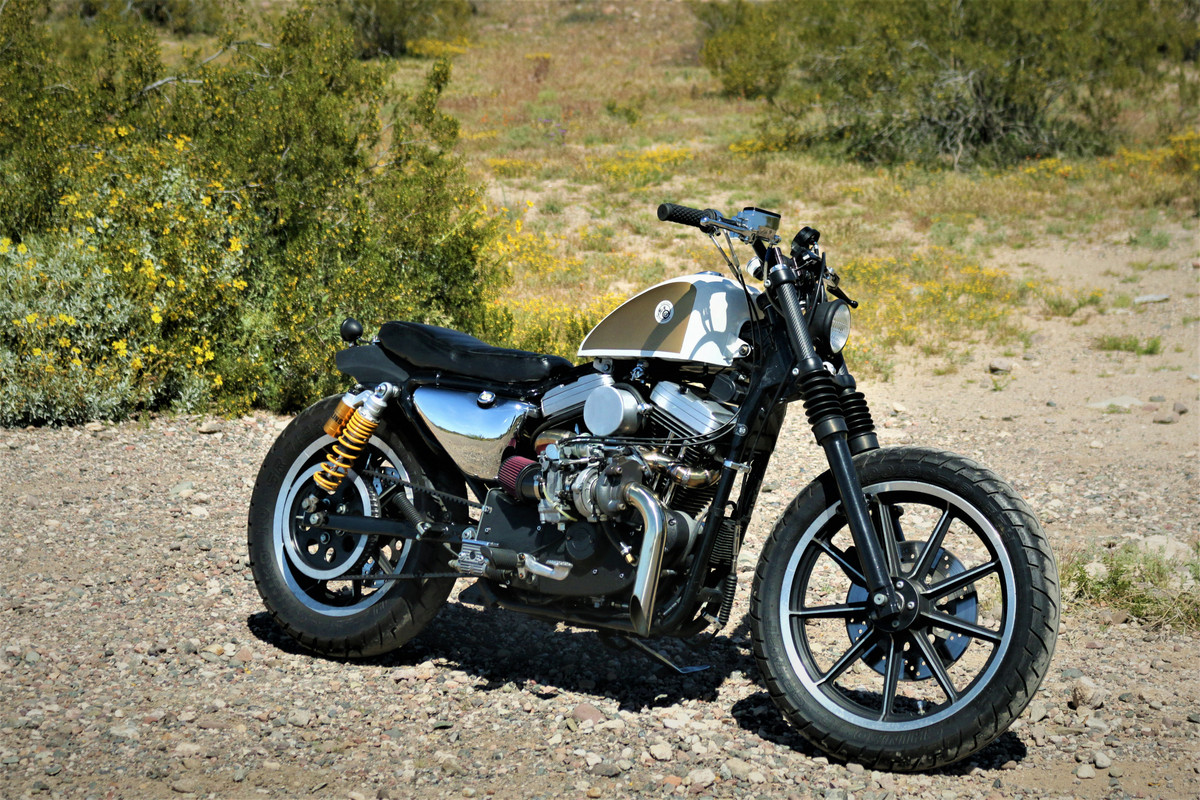 Made a new exhaust, it probably wouldn't work with forwards, that's one thing I need to buy and mock up on my bike to check. The new exhaust surprisingly made it much quieter, I actually prefer it this way. You can get on the gas and not wake the dead like an N/A straight pipe Harley. You can hear intake induction noises when rev-matching, due to the plenum I think. Hearing a combination of induction noises and turbo noises is the best of both worlds!
I've got the bike where you can start it cold, hop on and go. I'm going to be testing out smaller plenums over the next couple of months to see how it responds, and also getting the bike on the dyno to see where it's at. Once I have dyno numbers and some concrete data on plenums, we'll be only a few weeks away from going into production.
2-step launch control is on the bike, I have it set to 3,100RPM. Hold it on the launch limiter for even just a second or two and it builds 3psi instantly; let the clutch out and it swings to full boost and takes off like a bat outta hell. Going to recommend this for very experienced riders/drag racers only. I'll wire in the pin on the ECU so that the end user can wire it up to a N/O switch. The circuit is activated via ground; right now I'm just using a bar-mounted killswitch.
Final note; For some reason, the 04-06 bikes are extremely popular for hot-rodding, and 3 out of 4 people that hit me up have one. The ignition setup on those bikes is triggered by the crank, and not adjustable like the nosecone setups. Additionally, Harley tied the ECU in with other electrical systems on the bike, so I can't use my supplier for the ignition system. The only options are the Dyna DSPT-1 (which has pre-programmed curves, but to my knowledge, cannot have custom curves programmed) and the Daytona Twin-Tec, which does allow custom programmed curves.
The issue is, even though I can program curves, it's MAP based using the stock MAP sensor, and I don't know how it will respond to boost. More than likely the sensor will just run out of range, but that remains to be seen. I might be able to adapt a different map sensor, but I don't know if the Programming Software (that I'll have to buy) has cells for pressure higher than ambient. If it doesn't, that's a huge bummer.
Then add in the fact that the 04+ bikes have 9.7:1 comp in addition to the super early closing W cam, and I'm hesitant to offer setups for those bikes without actually testing and tuning one myself.
Might have to call Daytona and probe a few questions before seeing if I can find someone who's willing to make the trip to AZ for me to make them a turbo setup for an 04-06 bike. I'd offer you a huge ($1k off) discount and free install, but I'd need the bike for 3 weeks/month to get a reliable timing map in the bike.
Because of this, I'm sticking with my original intention of only offering my kits for the 86/03 bikes, at least until I can get some questions answered, and some miles put on a newer bike. Might have to just buy a rubber mount myself......