Happy New Year!

Once again, we're offering the Best 1250 Kits Made for this incredible price: $599.95 which after your 10% XL Forum Member Discount is only $540! (86-03 small fin style)
We haven't set a date for how long we'll hold this price, it's all a function of demand, so don't hesitate, get your order in now!
Also note that your 10% XL Forum Member discount applies to the 04-up big fin 1250 kits as well. Their regular everyday low price is $699.95, which after your discount is only $630!
Note: 86-03 style small fin cylinders can be put on 04-up bikes but we don't recommend it. You'll have to grind off the lowest fin on the pushrod side to make it fit, the fins won't match the heads (see example here), and cooling performance will be reduced.
Here's what makes these the best made and best selling 1250 kits on the market: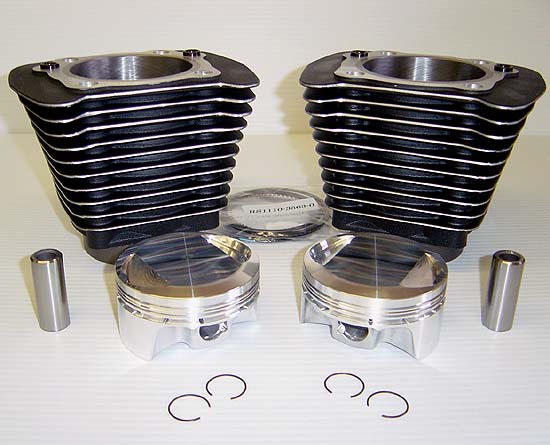 Available in your choice of black, silver, or black with highlighted fins (shown above). Same price in any of the three colors. We have about a dozen different pistons available, so no matter what heads you have on your Sportster, we should have the pistons for it. Again, same price with any of the pistons.
Of course, all HAMMER PERFORMANCE 1250 kits come with the best components made, starting with the superb Sledge Hammer iron lined aluminum cylinders of our own design:
Kits based on the 86-03 fin style (left) are $540 after your discount. Kits based on the 04-up fin style (right) are $630 after your discount. Big fin or small fin, all Sledge Hammer cylinders feature an extra heavy duty high tensile strength ductile iron liner as shown, note how thick these liners are. Thick liners resist distortion under the heat and stress of a running motor, providing superb ring seal. These cylinders also wear at less than half the rate of the factory piece, resulting in a long, trouble free life.
Complementing these superb cylinders is our premium quality Sledge Hammer Pistons: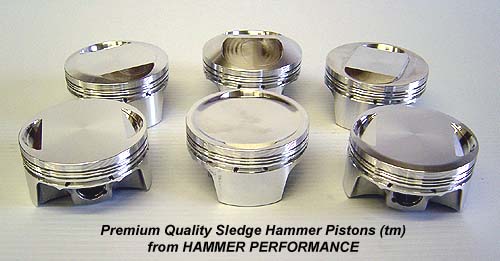 Sledge Hammer Pistons are based on CP's high end "X-Forging", an ultra lightweight and ultra strong premium forging they sell alongside their standard forgings, and although they get a little more for them, HAMMER PERFORMANCE brings you these top of the line pistons at this great price!
How much lighter are they than the standard forging offering? Take a look for yourself, the scale doesn't lie: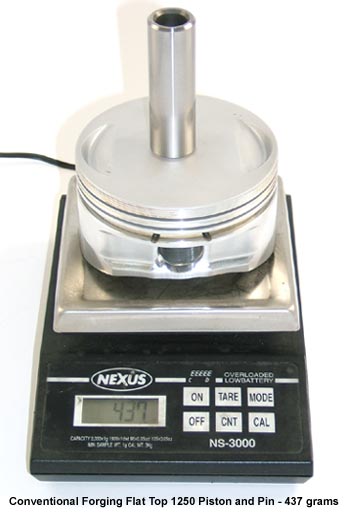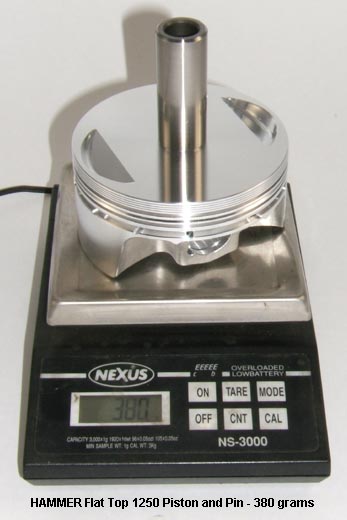 Our 1250 flat top piston (right) is literally 57 grams lighter than a conventional forged version. That's 114 grams less reciprocating weight!
Less reciprocating weight means less stress on the connecting rods and lower end bearings, less vibration, and
more power!
These truly are the best pistons you can buy.
Choose from any of our high performance dome configurations, including our super trick 30 degree reverse domes: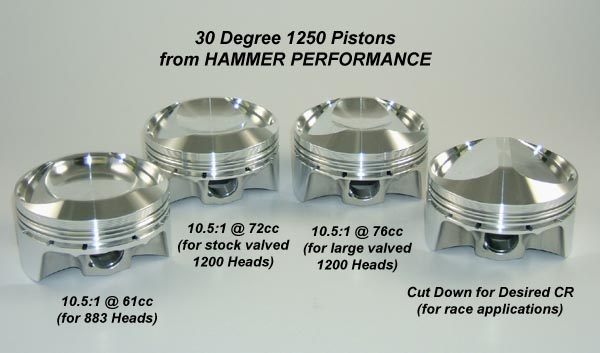 These trick pistons combine the race proven tall 30 degree domes with a dish in the middle to make them pump gas friendly. The results are staggering ... using these pistons, we've pulled over 111hp using 883 heads and 115hp using 1200 heads, totally streetable and on pump gas!
Actual dyno result on 2007 883/1250 conversion using SLEDGE HAMMER 30 degree reverse dome pistons
Also included standard with each kit is premium quality multi-layer steel head gaskets and rubber coated steel base gaskets.
So how do you get this great deal?
To get the kit at this price, you have a couple of options:
Order Online at our web site. Although your forum member discount won't be applied to your order, if you include a note with your order to indicate you're an XL Forum member, we'll apply the discount in the form of a partial refund.
Send us an inquiry via the form on the Contact Us page on the HAMMER PERFORMANCE web site. We'll create a customized quote just for you, and send it to you, and you can order against that. Fill out the sales inquiry form there. You'll need to tell us ALL of the following:

Your first and last name. We can't enter you into our system without your last name!
Your email address - double check that you don't make a mistake on this!
Your zip code if you're in the US, or just your country if you're outside the US. We need this to calculate the shipping charge
The year of your bike and whether it's a native 883 or 1200
Check the box for the XL Forum. When you do this, we know you heard about us on the XL Forum and we'll apply your discount to your estimate
The year and type of heads you'll be using with the kit. We need to know this to select the correct pistons.
What cams you'll be using with the kit (so that we can put you into an appropriate compression ratio piston)
The color cylinders you want (silver, black, or black with highlighted fins)
Whether or not you'd like the optional upgrade to a Cometic EST full top end gasket set ($40 extra, less your forum member 10% discount) - we recommend this if your bike is more than a couple years old
Whether or not you'd like your kit preassembled ($40 extra less your forum member discount) - this greatly simplifies installation and eliminates the need for any special tools on your end

We will create a written estimate and send it to you. If you do all of the above and you don't get a response from us in 24 hours, CHECK YOUR SPAM FOLDER!. Nine times out of ten, that's the problem. If you're sure you didn't get a response, send the request again, and please be sure you enter your email address correctly.
For those of you converting an XL883:
Depending on the year of your bike, you may need some other pieces to go with the 1250 kit. For example, 04-up 883's need a new clutch spring (or better yet an extra plate clutch pack) and 04-06's need a new ignition (advised on 86-03 models as well). See
our tech article on conversions
for all the details. If you request a quote via the contact us page and don't specify, we'll send you a quote with everything that's required and/or advisable based on the year of your bike. We can always modify the quote as you desire.
For those of you wanting even more power:
HAMMER PERFORMANCE is the leader in XL performance, with industry-leading
engine kits
,
cams
,
CNC head porting
and other parts and services to make your Sportster as powerful as you want it.
Virtually every 100+hp 1250 dyno sheet you'll find on the XL Forum
came from our head porting, even the ones without our name on them, as other shops have outsourced their head work to us. We have multiple customers over 100hp on 883 heads and over 110hp on 1200 heads. Let us know your goals and your budget and we'll tailor a proposal specifically for you.
Once you've received your estimate, look it over close for any errors or things you want changed, and let us know. We'll work with you until we've got it exactly the way you want it.
When you're ready to order, the procedure varies depending on whether you're just buying parts or you're getting services too:
If you're just buying parts, just send funds via Paypal to payments@hammerperf.com ... we'll send a Paypal money request if you'd like, or you can just shoot us funds. If you don't want to mess with Paypal, you can call the shop and leave a credit card number. Some customers even mail us checks, it's all good. Once the order is placed, give us a few days to get your kit out, as we hone each set of cylinders to the exact set of pistons they ship with.
If you're getting any shop services (head porting, etc), send your parts to us at the address shown on our Contact Us page. Pack them carefully! Many people underestimate how fragile things like cooling fins can be and there's nothing we hate more than to have to call a customer and tell him his parts got damaged on the way to us. When your parts hit the door, they get unboxed and put into the shop work queue. Meanwhile we gather the pieces for the rest of your order. When the shop services are done (contact us for our current turnaround time), HAMMER Dan will contact you for payment info, and ship your order.
Once your order is shipped, we'll email you a tracking number. If you have any questions on your order at any time, you can shoot us a note at
orderstatus@hammerperf.com
Just a couple more notes ...
Many of the piston choices will raise your compression over and above a level suitable for stock cams. If you plan to use your stock cams, please choose a piston that will keep your compression ratio at or below 10:1, otherwise detonation damage to your kit may result. For 1200 heads, this generally means a flat top piston, for 883 heads this means the 10:1 reverse dome piston. We cannot warranty kits damaged due to detonation. Please ask us if you're unclear about which piston to choose.
Please refer to our detailed and illustrated installation instructions available here. Pay particular attention to the sections on proper heat cycles, break-in, and tuning. If you have any questions at all, don't hesitate to contact us, we answer all emails even on weekends. We want your project to be a success!
Finally, here are some more pictures of the kits in different colors and fin sizes: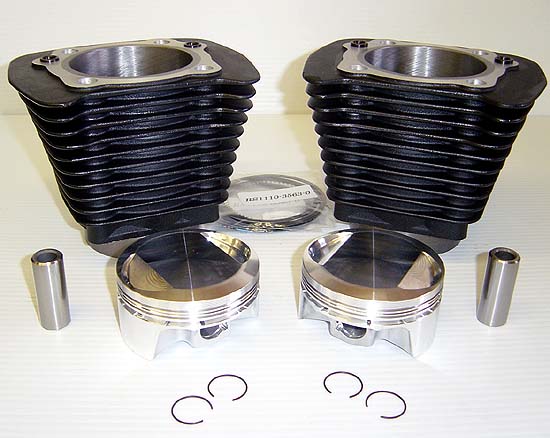 Small fin kit in straight black, shown with 15 degree pistons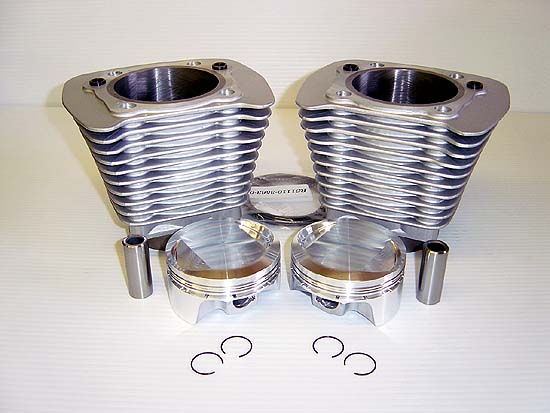 Small fin kit in silver, shown with 15 degree pistons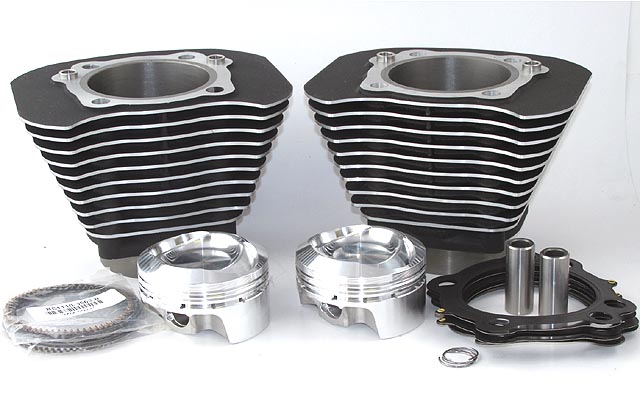 Big Fin Kit in Black Highlighted, shown with 30 degree reverse dome pistons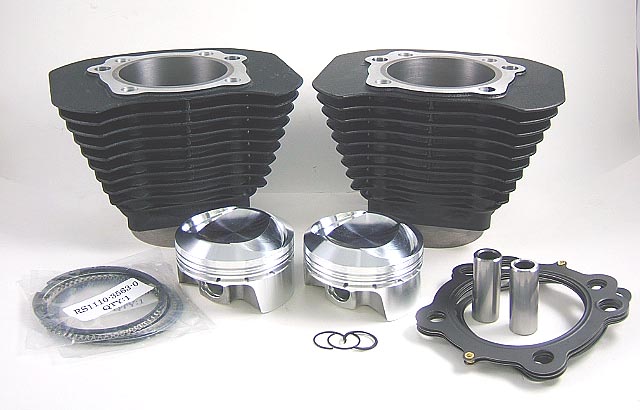 Big Fin kit in straight black, shown with 30 degree reverse dome pistons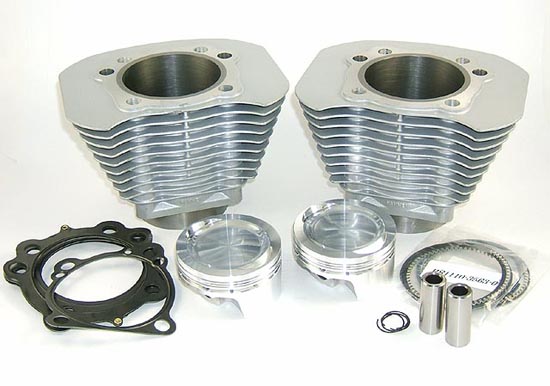 Big fin kit in silver, shown with 883/1250 conversion pistons