You can tell people are out riding more and reading less cause it's getting really difficult to get people to send in pics of their rides!!! This week I enlisted help from HolyHandGrenade and he's not only new to the forum, but a new Sporty rider as well. Tim describes his new hot rod this way:
This is my first bike since I sold my 99' Zx6R in 2000. It was a little awkward at first with the rake and apes. I wobbled all the way down the sellers drive and was all the way out into the on coming lane when I turned left onto the street... I took to it pretty quickly though and I'm loving it now!
It's an 03 883. It has a Seeger bolt-on Chopper kit with 44 degree rake, 8" over tubes, 16" apes and shorter shocks in the back. The paint was done by Bad Dad Customs. It has Thunder Header pipes and a Screaming Eagle Heavy Breather. When I got the bike it didn't have an air cleaner, speedometer, or front turn signals. I put the Heavy Breather on, fixed the signals, and put a speedo on it via a tank mounted relocation kit. Other than that all I've done is add the La Rosa Solo bag and the front tool bag. Now I'm going to ride it for the summer and maybe do a 1200 conversion this winter.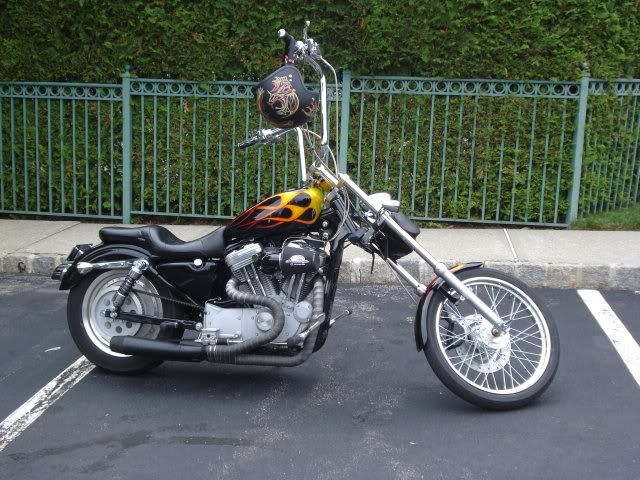 Welcome to the forum Tim, now go out and ride!!!