6th June 2012
~~RIP Johnny G~~

Scored: 10

Views: 7,966

Visited: 13
Photo Of the Week 6/3/12 Top Fuel II
---
Ladies and Gentlemen, Boys and Girls of ALL Ages please allow me to introduce you to the NEW and slightly IMPROVED
[Haha, j/k, Snowman!!]
POW - PHOTO OF the WEEK
!!! Without further adieu I'm going to introduce this weeks bike...
TOP FUEL II by DP Customs
Top Fuel II
is one bad to the bone Sportster. Started as a 1981 1000cc Ironhead motorcycle, thats about all you'll notice as stock on this heavily modified Sporty. If your into NASCAR, you may have deja-vu of Ned's #11 Ford Galaxie race car as endless hours were put into creating this scoot to pull off that feat.
The end goal??
DP Customs
wanted to create an uncluttered, clean OLD-SCHOOL HOT ROD! They believe (And we concur) that they hit this one out of the ballpark!!!
TOP FUEL II
: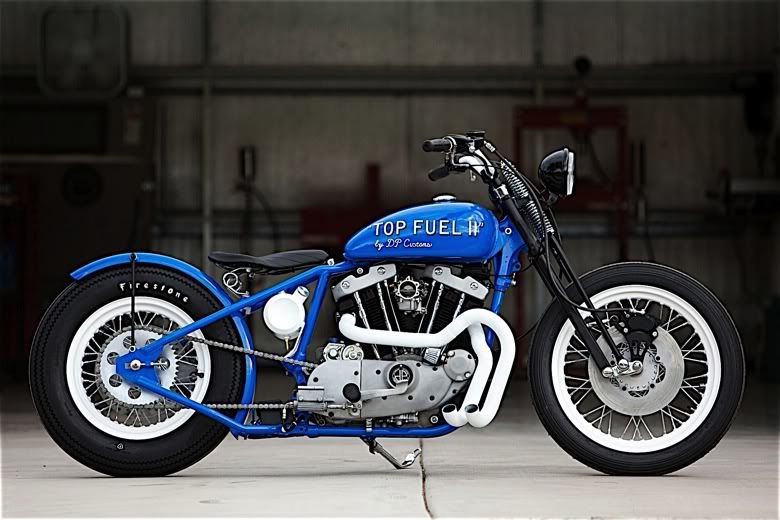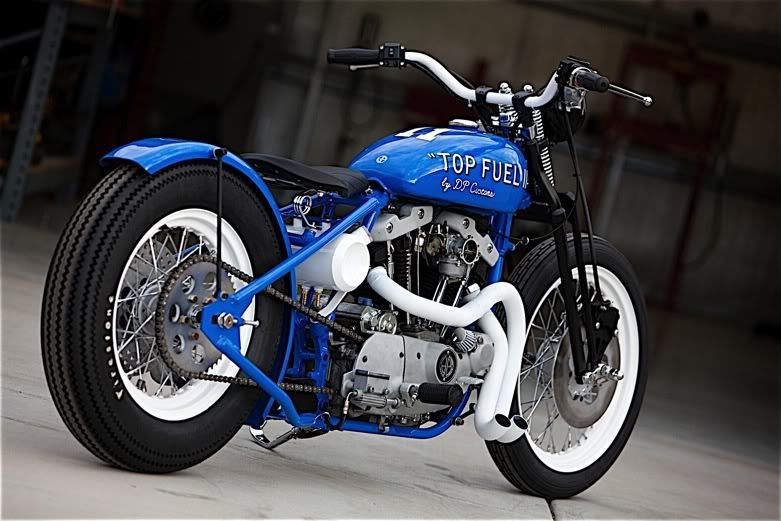 Last,
Top Fuel II
was created as a tribute to
DP Customs
first ever rigid custom scooter,
Top Fuel
... I just thought I had to share the first version, which IMO
Top Fuel II
beats lickety split!!
TOP FUEL
:
As a footnote to this weeks POW, I'd like to announce that Snowman has graciously passed the torch back on over to myself as the curator of the weekly POW. (POW=PHOTO OF the WEEK) I did the POW for a year or so before giving the duty to Snowman... and he did a wonderful job sharing many, many motorcycles with us over the time he handled the POW honor. I'll be making a post in the XLForum, but I'm going to need LOTS of bikes to run here... Buells, Ironheads, Nightsters, ANY and ALL Sportsters & XL based motorcycles. PLEASE send me a PM if your bike fits the bill, and do respond if I send you a PM... this will be run WEEKLY, every Sunday without fail. Help me do my job well by sending over any Sporty that you think MUST be a POW!!! A special THANK YOU goes to Snowman of the XLForum for doing such a great job showing us many, many fine Sportsters.

THANK YOU, SNOWMAN!