This week is another great bike with a great story. I'll let Kendall tell it:
My dad was killed by a drunk driver when I was just two years old, and when he passed, the Harley became mine. My uncle kept it for me while I was growing up and doing whatever. I have always had a love of vintage bikes of any make, but especially Harleys. Eventually I figured out what direction I wanted to go with the bike... When I got the bike I was surprised at how good of shape hit was in. My uncle rebuilt the engine some time ago and would start it and ride it around every couple of years! My mom told me that when my dad bought the bike, he brought it home, rode it around the block, and, much to my moms chagrin, tore it all apart to chrome it...
My dad was an extremely gifted dirt bike rider, and this was his street toy.
I knew when building the bike that I would want a disc front end for better stopping ability, so while looking for a set of forks that had disk mounts, I found these wide glide forks and triples at a swap, and talked the guy down to 80$. At a different swap I found the 21" front wheel for 40$. Sourced an axle and made my own spacers. Threw the fork brace on there because I liked the look. I decided to put a tokico four piston front caliper and Nissan caliper on the front. Fabbed my own steel mount for the caliper, and drilled the master cylinder out for 1" bars.
Bars are custom made 10" Z's. I did a re gasket job on the motor, painted it and called it good. After careful tuning and adjustments, the thing runs awesome. Stock bendix but I have a cv waiting to go on. 16" rear wheel was on it when I got it. I liked the look of the rear drum, so it stayed. Avon tires front and rear. FL full cover shocks. With the stiffer suspension front and rear, and the Avon tires, the bike actually handles pretty decent and tracks very true.
The bike was yellow, my most hated color, so I decided to paint the tins white. I dis-assembled the whole bike and sprayed the frame and wheels black acrylic enamel and used a wet look hardener in the mix. The white is also acrylic enamel for durability. Chopped the stock rear fender. I decided I liked the look of the stock seat, so it stayed. My wife rides 2 up with me now and then anyways. The air cleaner was a NOS swap find, 15$, still in package.
I now daily ride it to work as well as play around in the mountains on the weekends. It's a fun ride, and it sounds GREAT. Usually a first kick bike. Recently had my ignition advance unit come apart so I ordered a new ultima ignition. Other than that's its proven a reliable fun ride.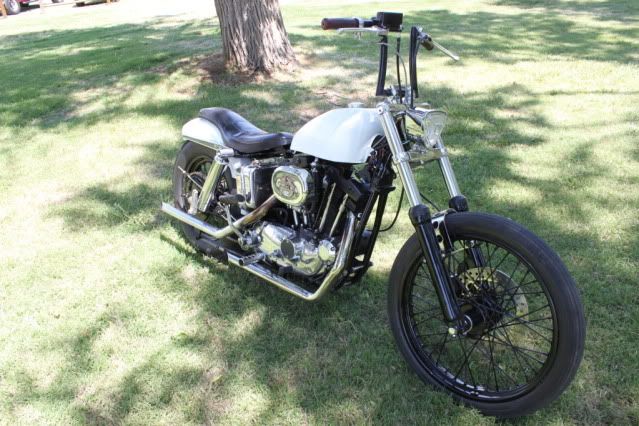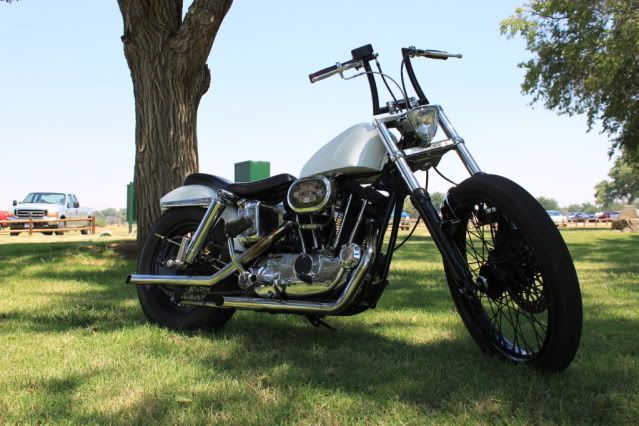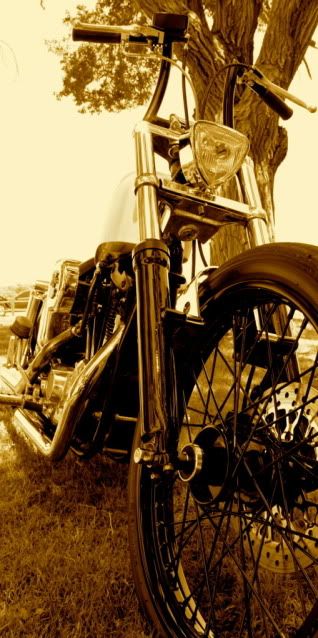 Just my opinion, but you did your dad proud bro...