This week's ride was brought to my attention by Quebeker. It is a bad azz ride that started out as a yellow zonker:
The owner is Dewil and he turned this stocker into a screamer. Here's William's story...
"A colleague bought a night-rod and that gave me some inspiration to buy a Harley. There was a sales contest at work with first prize an I phone 4. I decided to win the phone and also decided that if I didnīt win the phone I wouldnīt buy a bike. With these to prizes fueling me I worked hard so I got the phone and could justify buying the bike! I brought home a yellow sportster 883C in late November and got to ride about 2 miles with it before breaking out the tools. A nice bike for sure but where were the "sport" in this puppy? Along the project I learned to lathe, mill, weld,
adobe
illustrator and more... In the beginning of August I fired her up again and took her for a ride. A whole different bike I can assure you, not only by looks!"
The mods include:
* Buell XB fork swap
* Buell XB Front wheel (with Metzeler 130/80-17 tyre)
* Carbon fiber fender
* Milled triple tree (black coated)
* Lathed steering stem adapter, gold anodized
* Steering damper installed
* Clubman clip-on bars
* CNC grips
* Buell XB switches
* Custom-made throttle & adjuster (turned from brass)
* Buell XB master cylinder & brake. Adjustable brake lever
* Milled reservoir cap front & rear brake, black anodized
* Metmachex hydraulic clutch with GPZ-900 MC
* Acewell Speedo
* Twin headlights
* Milled rear mounts for foot pegs, black anodized
* Lathed shifting linkage, gold anodized (w carbon fiber tubes)
* Reinforced swingarm
* Progressive 412, 13,75" shocks
* Milled belt adjusters, gold anodized
* Wrinkle painted sprocket
* Sportster spoked rear wheel, black powdercoated (Metzeler 150/80-16 tyre)
* Moulded carbon fiber air cleaner & fuse cover
* Shortened rear fender
* Custom designed tank logo
* Chin spoiler installed
* Paint job (metallic gray with black "muscle car"- stripe)
* Bored cylinders 883--> 1200
* Valve job (bigger valves)
* Andrews N4 cams
* Homemade 2-1 exhaust, stainless steel 1-3/4"
* Delkevic muffler (with Yoshimura decal :P)
* Chopped cam cover
* Black wrinkle powder-coating on engine
* Braided stainless steel hoses
* Braided stainless steel brake hoses
* Harley black gas cap
* Kellerman indicators in front
* Kellerman indicators with brake light in rear
* Punisher CNC points cover
* Stainless steel license plate holder
I have milled and turned all parts on a lathe myself, as well as anodized them. The welds are TIG.
The whole build took from October -10 to August -11.
And now for the results...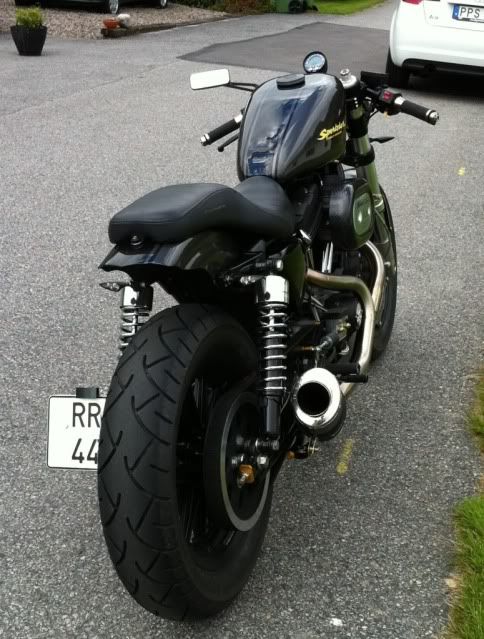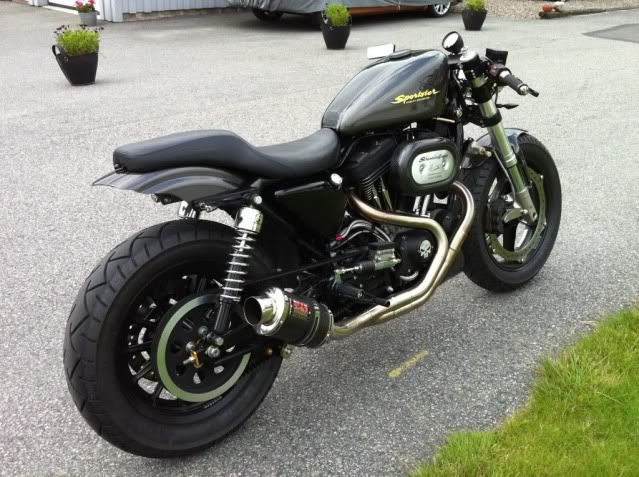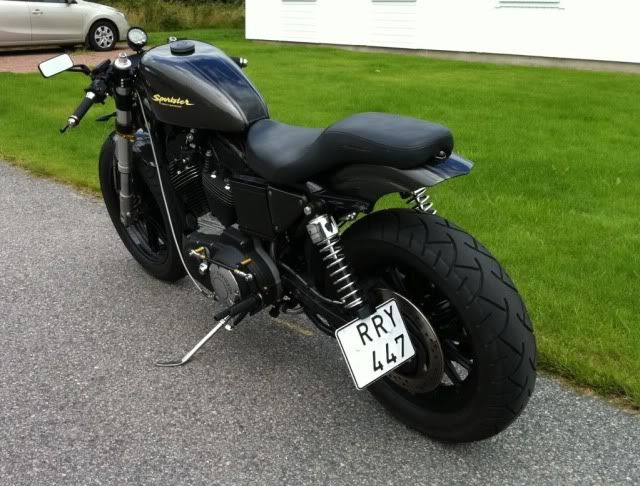 Did I mention he's from Sweden? No turkey here folks...