This week features a cool sporty with real classic lines...
Belongs to the O'dells and its gorgeous:
The bike started life as a 2009 Silver Denim 883N Iron purchased for my wife Kelly.
Styling queues for the project were taken from a 1956 KHK, 1957 Sportster, 1960 XLCH and a 1958 FL Duo Glide.
Roadhouse Brand Classic 2-1 Exhaust was ordered.
The fenders, the 57 replica seat, 4.5 gallon tank, and 2" chrome risers were V-Twin items.
I wanted to clean up the wiring on the bike and with advice from Cosmo Kramer all the wiring is now running through the frame and handlebars.
The front end was finished off with 2" chrome risers, Softail Deluxe handlebars, a Motogadget MST Speedster speedometer and a Chrome Nacelle.
The wheels are Landmark 40 Fat spokes with rims and hubs powder coated Glacier white and they are wearing Avon wide white wall tires.
The suspension is stock in the front although I have progressive drop in springs that I will be adding in the future.
The rear shocks were upgraded to Progressive 812 Vintage series shocks.
The paint colors choosen were Harley Davidson Blue Suede / Vivid Black with a white pin stripe on the tank separating the colors.
Last but certainly not least, the bodywork, finishing and paint were all done by our very own forum member WayCoolSportster.
It's still a work in progress and future mods will consist of the addition of Saddlemen teardrop detachable saddlebags and a detachable windshield.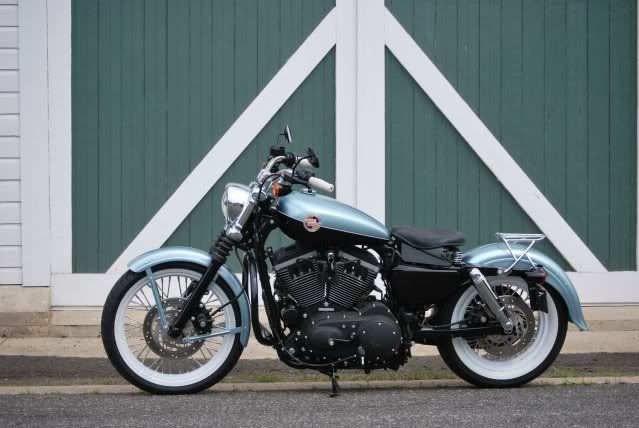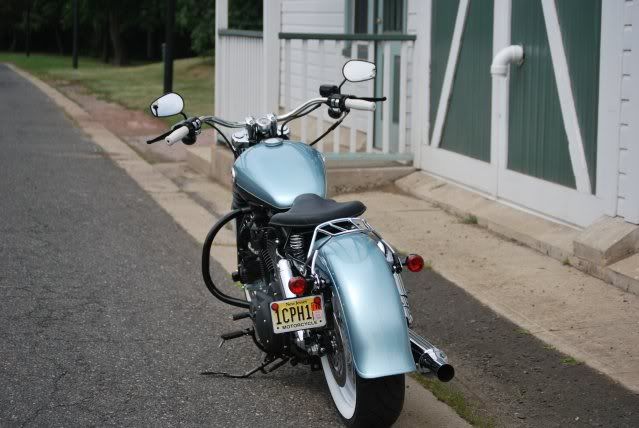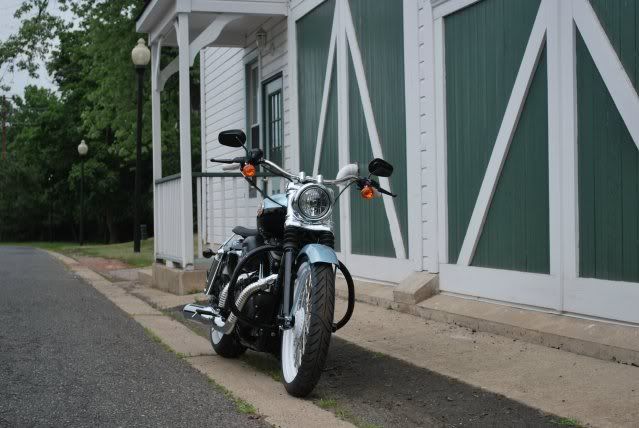 Also got word that Mark Barnett wants to do a feature on Charlie and Kelly's bike in Barnett's Magazine... Yeah, baby!